Duke basketball follows tradition, and this can well be comprehended when players and coaches slap the floors during gameplay. This novel idea evolved decades back during the 1980s. Soon, post 1990s, this gained popularity and serves as a way to mock Blue Devils.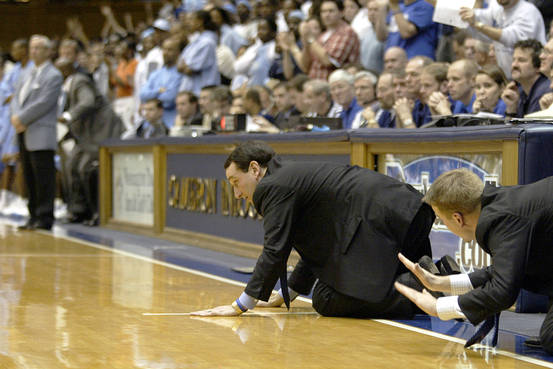 Floop Slap Inculcates Instant Energy
The current Duke Basketball team caters to smacking hardwood pretty often than other, especially in times of criticality and need. This season, the five Duke players chose to slap on hardwood floors in unison to convey dropping on defence. This floor slap saga has taken place at least thrice in the current season. Tyrus Jones, a freshman guard conveyed that this slap saga has a purpose; it gives the players instant energy, and hence has been followed down the generations.
The Father Of This Tradition
The floor slap was popularized by Steve Wojciechowski (Marquette coach) during his stint at Duke (1994-1998), when the team had notably outperformed. Players say that this technique is never planned. Players also mentioned that this slap acts as a harbinger for urgency in defensive tactics, than retaliation. Quinn Cook, a senior guard, dubbed this as a moment in the game wherein players need to pause and start defending when things are going haywire; thus, this is like the players have reached a breaking point.
There Is No Thought Process
Synchronized slapping requires a lot of coordination. Any player can call for this. The sync takes place very quickly once a player calls for it; it's like some shared emotion or feeling. Most players find no logic on how this synchronization happens, because there is no thought process behind it.
Players are unsure whether this group slap will be visible against Gonzaga, as the efforts are spontaneous. Duke basketball team's defensive tactics are capable and commendable though not exceptional. Predecessors have slapped in games some exquisite memorable games. The Duke Basketball team hopes to continue the tradition and prove their exceptional skillsets in memorable matches, thus becoming famous in history.