It's fascinating Julia Roberts, the heartthrob with her million dollar smile is still keeping her charms on, while dancing to the coolest steps on stage with Taylor Swift, this Sunday night.
At the Santa Clara show, the "Notting Hill" actress was seen dressed in a 1989 tour T-Shirt as she moved her steps along the runaway with the versatile and the legendary singer Joan Baez.
She showed her coolest moves in the arena as Taylor Swift continued singing, and her dance resembled the mum dancing moves.
The audiences clicked some fantastic pictures of her while she was giving her mommy moves with Joan, and it reminded the audience of the character Vivian from the movie pretty woman.
She was looking dashing with tight black denim and a pair of college sneakers. The excellent moves of the mother of three mesmerised the audience.
Her movement on stage reminds the awesome glamorous walking posture of her in the movie "Notting Hill", where she played the role of a sweet and cute actress from the Hollywood falling in love with a bookshop owner.
Her smile says a million words without whispering a word. The moves she shared on stage with the beautiful Taylor Swift and Joan kept the audience applause for a long time.
The world is delighted to see such an amazing lady and a mum dancing.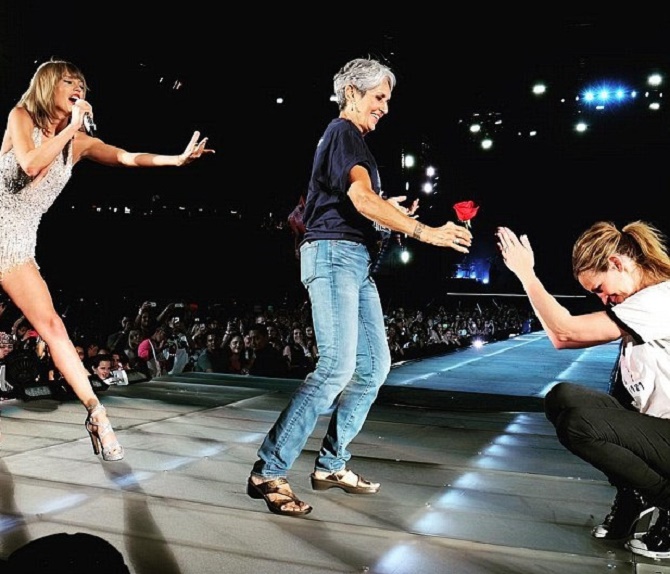 Though she wasn't the only lady to join Swift for the dance session but Little Mix too joined the team for a duet, and the show was enthralling.