Latest photographs sent in by NASA's Pluto-bound New Horizons spacecraft show a highly reflective spot on its pole, which has led the scientists to speculate that it could be a polar ice cap on the dwarf planet. The satellite which is presently 3.5 billion kilometers away from us has another 60 million miles (113 million kms) to cover before it finally reaches the farthest planet on July 14, 2015.
Little is known about the surface of this most distant member of our solar system which was discovered in 1930.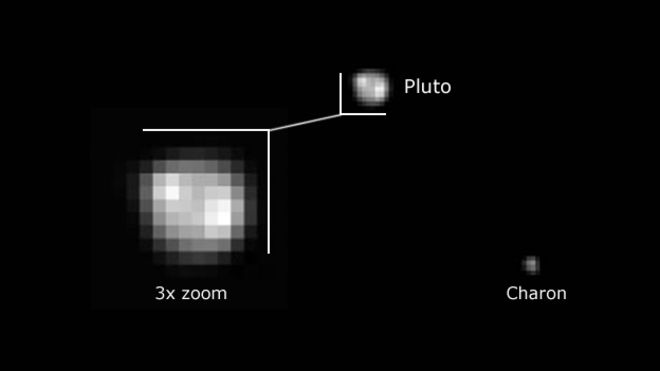 Soon after the pictures came in, scientists put to use sophisticated instruments and new image resolution techniques to interpret the data sent in by New Horizon and inferred that the dwarf planet has broad surface markings – some bright, some dark – including a bright area at one pole.
"Pluto has very broad surface markings with a wide range of reflectivity, showing structures hundreds of miles across," said Alan Stern, the New Horizons principal investigator.
"At 3 o'clock the images remain bright; that's a pole and maybe a polar ice cap. That's very, very exciting; it's suspiciously suggestive of a polar cap."
John Grunsfeld, associate administrator for Nasa's Science Mission Directorate in Washington, added, ""We are starting to see intriguing features, such as a bright region near Pluto's visible pole."
The images also show Pluto's largest known moon, Charon, rotating in its 6.4 day long orbit. The spacecraft has been inching slowly towards Pluto since the last 9.5 years. After its sojourn began, Pluto was demoted and given the status of a 'dwarf planet' by scientists who discovered other similar icy bodies in the solar system's back yard.
The planet is tipped onto one side, much like Uranus enabling the satellite to keep a steady gaze on one of its poles.