The diagnostic device, dubbed as a dongle plugs into any smartphone powered by iOS or Android and turns it into a mobile screening tool that can diagnose HIV and syphilis in just 15 minutes.
The device was tested on 96 patients in Kigali, Rwanda. After getting their test results, 97% of the patients showed willingness to recommend it to others, according to a recent publication in Science Translational Medicine.
The dongle replicates the functions of ELISA, Enzyme-Linked Immunosorbent Assay, which is one of the commonly used tests to diagnose the AIDS virus and the bacterium Treponema pallidum in syphilis.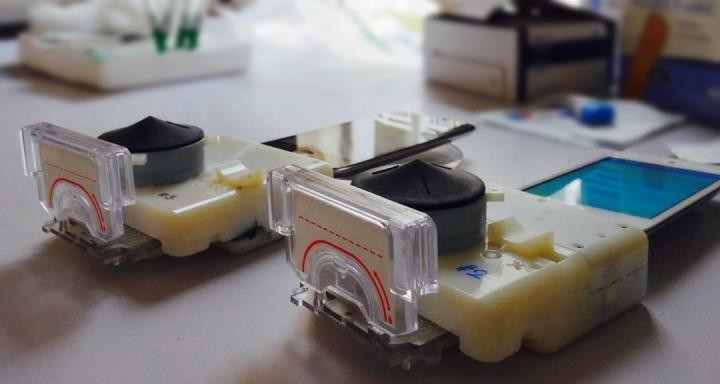 A group of researchers led by Columbia University's Professor Samuel K. Sia has developed this gadget, which costs approximately $34. The laboratory equipment used for this test costs approximately $18,000. The dongle can perform and produce the same test in 15 minutes. The device replicates all optical, mechanical and electronic blood tests with ELISA functions and it also performs a triple antibody test.
During pilot testing, patients pricked their fingers and then tiny sample of blood was diluted and placed into a cassette loaded with testing reagents. Once the cassette is inserted into the dongle, the user had to press part of the device to perform the test. At the same time, user also has to press start assay button on a smartphone app. The app would then walk the user through series of simple steps. The blood test results will be displayed on the screen after 15 minutes, letting user know if there is positive or negative test result.
Professor Sia explained that putting such developments in consumer electronics can make it accessible to almost any population having access to a smartphone. Increased detection of syphilis infections could help reduce deaths by up to ten times. In cast of HIV, screening could help initiate antiretroviral therapy immediately.