Things were still in an extreme tense mode in Alexandria even though no horrific or brutal deaths (of living people) were experience in tonight's episode of The Walking Dead.
The loss of lost Noah and Aiden in the previous episode last week had everyone mourning with. Besides, Deanna was still looking very disturbed with how to deal with Father Gabriel's warning about the exact nature of Rick's group as Rick and Carol tried to get idea on how to deal with Pete.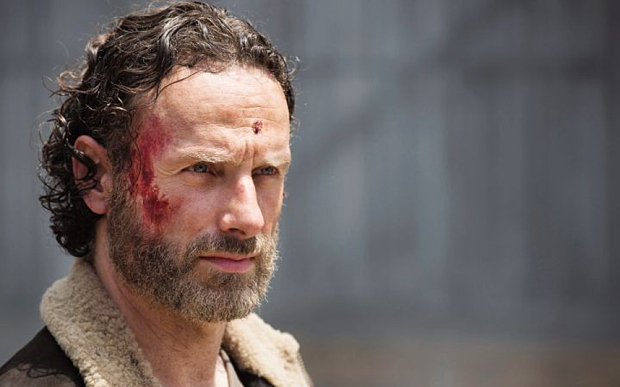 However, it turns out that Deanna is pretty aware of the fact that Pete who is a talented surgeon and has saved many lives is hitting on Jessica. On the hand, Rick wants him separated permanently from Jessica even if it means killing him. This is regardless of the fact that Jessica is not ready for his loss especially by the community.
Deanna is not for the idea but Rick is still determined to shoot Pete in the face. He gets himself into a fist fight and they ended up throwing each other through the window which saw them land at a ground in the middle of Alexandria.
Covered in a pool of blood, Deanna will the follow them and ask them to get up. Immediately, Rick pulled out a gun and began waving it like a lunatic amidst shouting about how people in Alexandria have no idea on how real world works. He says that they will die as a result of not knowing what they are doing.
Elsewhere in the episode Sasha is outside Alexandria hunting Zombies with the strange "W" mark and which has been seen in many other previous episodes. Carl and Enid are on the walls as Carl attempts to discover his similarities with Enid since the two of them had taunted walkers in the forest.
The season finale is sloted for next week with the biggest question revolving around Rick's fate who is likely to have had his way out of Alexandria.