The Board of Secondary Education Manipur (BSEM) results have been announced and are available on the official website manresults.nic.in and bsem.nic.in of the Manipur Board.
The results of the Manipur Board HSC exam can also be checked athttp://www.jagranjosh.com/results/manipur-board-hse-result-2015-12th-98558. This year the result was declared on May 11, 2015.
Last year the result for the 12th standard was declared on May 13, 2014. The student can get frequent updates on the Manipur Board HSLC Result 2015 by registering onresults.jagranjosh.com on both email and mobile.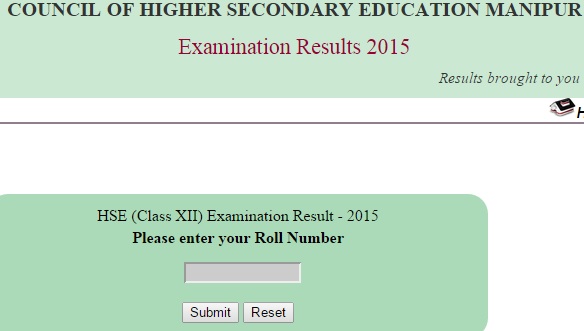 Over the years, the number of students appearing for the HSLC examination has been increasing which is a good sign.
Manipur Education Council
The Manipur's Council of Higher Education was established under the Manipur Higher Secondary Act provision in 1992. Prior to the establishment of the Council, the +2 courses were conducted in the state by the board of secondary education. The Council conducted the first higher secondary public examination in the year 1993.
Various institutions and universities operate under the canopy of the Manipur Education Board. The Manipur University, which comes under the Manipur State Board, came into existence on June 5, 1980.
In the year 2005, it was converted into a central university. The campus of the Manipur University covers an area of around 287 acres, and around 72 colleges are affiliated with the board of this university.
One constituent college is also affiliated to the University. Around 29 centers in Manipur conduct the HSC examinations. For the past few years, there has been a significant rise in the number of students appearing for the examination.
The Education Board of Manipur has worked relentlessly to encourage education in the state and has worked extensively to provide qualitative education to the students.
The Education Board has made all the efforts possible to motivate the students to complete their education and implement the learning in their daily life. The rapid growth in the number of students from the past few years is the outcome of these efforts.