Microsoft has been doing a lot of great things as of late, and the company's latest venture is no different. The company recently redesigned the Bing homepage for mobile devices, and from what we can tell, the whole thing looks beautiful.
For now, Bing is not the top search engine in the world, but with recent moves by Microsoft, things could change in just a number of years. The most recent change comes in the form of a new visual appeal for those on mobile devices. The former design was lacking in looks and functionality, so the software giant chose to switch things up a bit.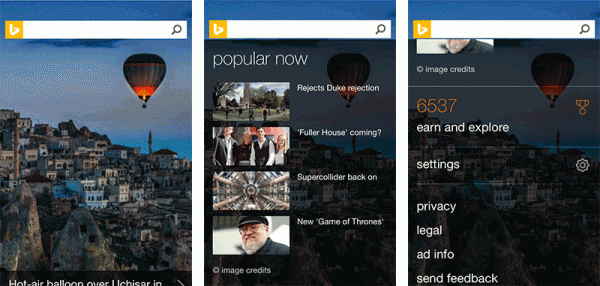 The new design comes only available for Android and iOS, as Windows Phone users have been using it for years.
According to Microsoft, the new design will bring to the table a new feature that allows iPhone and Android users to swipe in order to close Bing cards. The company also brings the ever popular Bing image of the day to the forefront. For those who are unaware, this feature is the most unique thing about Bing.
Another great feature, is the Popular Now card. This card shows all the popular news and entertainment happenings on the web. For those who are deep in the Microsoft ecosystem, they could view the weather in their area and other relevant information from the Popular Now card.
What about Bing Rewards?
Microsoft has made it easier for mobile users to access the rewards page, and to see all the neat things they have gained just by searching with Bing.
"Most Bing Mobile users take part in Bing Rewards. Microsoft created a new Bing Rewards. Microsoft created a better way to access your Bing Rewards and an easy way to see your rewards status. To facilitate their experience, we created a new Rewards card and gave it prime real-estate. This card gives you a convenient entry point to Bing Rewards and a quick way to view your Bing search settings."
Source: [Bing]