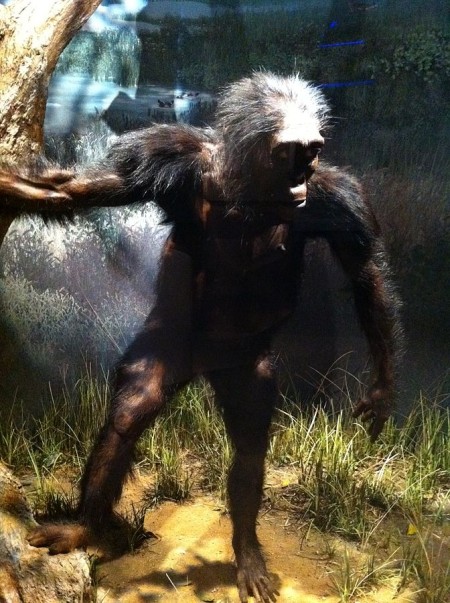 A new study of Lucy's bones suggest that A. afarensis have been less bipedal than believed.
A new study proposes that Lucy, our famous Australopithecus ancestor, could have spent most of her time in trees, according to a report published in the journal, PLOS One. Although Lucy—her fossil known as AL 288-1—only stood roughly three-and-a-half feet tall, her arm bones exhibit remarkable strength.
The discovery of Lucy half a century ago changed our perspective of human evolution. Of the earliest hominids discovered, her skeleton was the most in tact. But scientists have struggled with a definitive identity for Lucy because although evidence confirms she walked on two feet, she also climbed trees to avoid predators and to sleep, so the question remains how long she spent in them.
For the analysis, researchers examined the physiology of bones in how they can grow weaker or stronger depending on how often they're used. They compared Lucy's skeletal structure to the bones of about 100 chimpanzees and 1,000 modern humans and found that climbing trees required terrific brawn. And the ratio of strength between her arms and legs suggests that she was more chimpish than bipedal.
"That doesn't mean she was acting like a chimp, just that she was stressing her limbs more like a chimpanzee than a modern human," said lead study author, Christopher Ruff, a paleoanthropologist at Johns Hopkins University.
To draw conclusions on how Lucy interacted with her environment, scientists analyzed 3-D digital markups of bones digitized from scans of the originals. They discovered Lucy's bones were quite robust.
"She's tiny, but for her size, she's coming in very strong," said John Kappelman, a paleoanthropologist at the University of Texas at Austin who was also involved in the study.
Lucy's bones don't suggest much tool use, which could have also led to the same bone thickness. Researchers concluded that she climbed trees more than initially surmised.
But the scientific community isn't unanimous on the study. Paleoanthropologist, Donald Johanson, still believes Lucy and A. afarensis primarily stood upright.
"They would have had to spend a considerable amount of time in the trees for this to happen, and I think the overwhelming anatomical evidence is that they were terrestrial in their preferred locomotion," Johanson said, thinking that food gathering and digging up roots could have led to the density of Lucy's bones.
The study leaves the question as to whether A. afarensis' skeletal remains are just remnant adaptations from earlier ancestors. Lucy's long arms, curved fingers and toes and shoulder blades that curve toward the head than the side of the body are clues that she was more chimp-like. Her big toe, however, is like ours, indicating she was bipedal according to Dr. Johanson.
Source: The New York Times
Image credit: Wikipedia Commons CC BY-SA 3.0