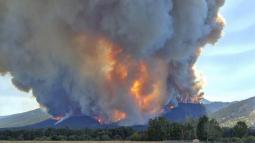 The Roaring Lion fire began the afternoon of July 31 and is growing rapidly in hot temperatures with high winds
The Roaring Lion fire is presently burning 3,505 acres 5 miles southwest of Hamilton, Mont. The fire started yesterday afternoon and the cause is still unknown. According to officials with the Bitterroot National Forest, at least 500 homes have been evacuated.
There are 105 firefighters working the fire at this time, aided by five helicopters which spent yesterday afternoon dropping buckets of water on the blaze. A tanker dropped multiple loads of retardants. Inciweb, the official Incident Information System, says there are three Hot Shot crews on the fire, with multiple engines and water tenders pulled from every rural fire station in the Bitterroot area. A Type 1 Incident Management Team will arrive today.
I have fire departments from Florence all the way to Sula that responded to assist today, as well as Missoula County has stepped up and they've back-filled our stations. They've sent engines down to put engines into our stations for any other calls that we've had. Great outpouring of support from within the fire service as well as law enforcement," Hamilton Fire Chief Brad Mohn said.
Firefighters are using caution due to propane tanks exploding near structures. Bulldozer and hand crews were able to create containment lines in much of the East side of the fire last night, and also put out multiple spot fires near residences.
Cooler conditions expected today are providing hopes that the fire crews will have a chance to regroup. By early Monday the temperatures had dropped nearly 40 degrees from Sunday afternoon, and humidity has increased. However, that will keep the smoke low this morning, making visibility challenging for the aircraft fighting the fire.
The cause of the fire is unknown at this time.