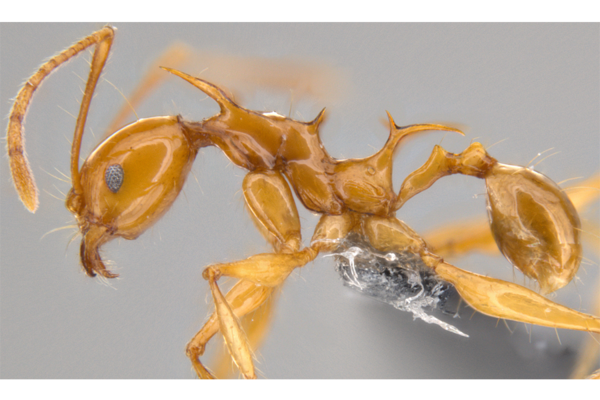 Scientists found an unexpected purpose for the spines on the backs of the newly discovered ant species, which have been named after the dragons in the "Game of Thrones" series
Two new species of spiny ant have been discovered, and, since the scientists who found it are Game of Thrones fans, they knew that the ants resembled creatures from the series and have named them after Daenerys Targaryens dragons: Pheidole drogon and Pheidole viserion. The ants have revealed surprising information as to the purpose of the spines that poke up from their backs, a secret revealed in a paper published in the journal PLOS ONE last Wednesday.
Study author Dr. Eli Sarnat told the Christian Science Monitor that it has commonly been assumed that the spikes on spiny ants are for defense, making it difficult for predators to swallow them. Sarnat had a different idea though. Worker ants fall into two categories: major and minor workers. Most average ants are minor workers, but the major workers have huge heads, and Sarnat thought perhaps the spines had something to do with extra muscles that would support those giant heads.
The team used tiny CT scans, known as micro CT, to look at the internal structure of the bodies of the ants and made a three-dimensional model. The scans revealed that there was indeed extra muscle tissue in the shoulder spines of the major workers, who have the larger heads, but not in the minor workers. According to Providence College biologist James Waters (not involved in the study), "The micro CT scanning enabled the authors to test a controversial new idea that the incredible shapes of the spikes on these ants have evolved for biomechanical support of their behaviors." He said perhaps this technology could help researchers examine evolutionary relationships between many other creatures based on the function of their anatomy, not just their form.
The new ants have spines which are more complex and elaborate than any other of the 15,000 an species worldwide. Evan Economo, another member of the research team, said that they routinely find new species of ant in tropical regions such as New Guinea, which is teeming with unknown creatures, but that does not mean this finding is insignificant.
According to Waters, scientists estimate that only a small fraction of Earth's different life forms have been discovered, and every new species identified is a huge benefit to humanity. "Natural history is all about understanding who our neighbors are, what they're doing, and how everything fits together, it's an incredibly important set of questions, and it's something we can all do just by taking a look at the ants, birds, and the great diversity of life crawling on the sidewalk or living in our backyards."
Image credit: Okinawa Institute of Science and Technology