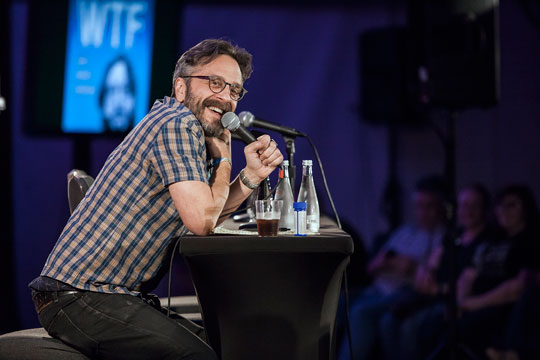 WTF with Marc Maron live at LA Podfest 2015. (Photo credit: Liezl Estipona)
Los Angeles Podcast Festival 2016 (aka LA Podfest 2016), featuring live recording sessions of dozens of popular podcasts, panel discussions, parties, a podcast lab, and stand-up comedy, will take over Sofitel Los Angeles at Beverly Hills from Friday, September 23rd to Sunday, September 25th, 2016. This year's festival, organized by founders Dave Anthony, Graham Elwood, and Chris Mancini, will unite roughly 2,100 attendees, including popular podcasters, their celebrity guests, fans from across the globe, and the podcasting industry, in celebration of the thriving medium. While the podcasters recording their shows live at the festival are traveling from as far away as Australia and New Zealand, roughly 75% of the shows featured in the festival are based in Southern California, generally considered ground zero for the industry, with many of the most popular shows originating in Los Angeles. A list of 34 confirmed podcasts participating in this year's festival is below.
"People should care about podcasting, which has risen from relative insignificance a decade ago into arguably the most exciting technology on the media landscape today, because it is the final frontier of completely uncensored communication," says Dave Anthony. "For the last four years at our festival, the very first to unite podcasts in front of a live audience, we have completely removed all filters between the artists and fans, with artists giving their work directly to fans in a very personal way."
Since the advent of podcasting, a decade ago, the medium has changed remarkably, particularly in the past few years. Recent growth in podcasting has been fueled by improved content quality, diversity in show offerings, increasingly sophisticated production values, and evolving technologies that allow for access on demand to anyone with a smartphone. While roughly 50% of the population doesn't know what a podcast is (Source: Edison Research), wildly popular shows, like Serial (the This American Life spin-off which attracts millions of listeners per episode), have brought unprecedented attention to the medium. Other popular shows like Marc Maron's WTF have attracted big name guests – big as in President Obama big. And, well-known celebrity podcasts, including shows by Adam Carolla and Shaquille O'Neal, have also put a spotlight on the medium.
Going forward, as web-based connectivity becomes increasingly more prevalent, particularly in automobiles, substantial additional growth in the field is expected. Podcasts offer fresh, free, on-demand alternatives to drivers stuck in traffic and on long trips, making the medium particularly desirable over traditional radio, paid Satellite radio, and the assorted overplayed and often damaged CDs rolling around in people's cars.
LA Podfest's vibe is akin to a comedy festival merged with a fan-based event like Comic-Con with all live shows – a "comedy podicon," if you will. It has seen steady growth over the past 5 years. In addition to increasingly expanding the scope of the event into new podcasting genres, the 2016 edition of the festival is also planning for a bigger audience and more panel discussions.
While the festival has always been comedy-centric, additional podcast genres have been added to the roster each year, with the festival now also including true crime, gaming/nerd culture, sports, news, music, pop culture, mental health, history, science, storytelling, and politics offerings. Panel discussions focus on skills and topics relevant to podcasters at all levels for them to learn about various aspects of podcasting. A special stand-up comedy show, held this year on Saturday, September 24th, is also one of the weekend's highlights.
In its first four years, the Los Angeles Podcast Festival staged over one hundred podcasts including Comedy Film Nerds, American Public Media's Dinner Party Download, The Dollop, The Dork Forest, Doug Loves Movies, Girl on Guy with Aisha Tyler, improv4humans, The Indoor Kids, Jordan, Jesse, Go!, The JV Club, Keith and The Girl, The Mental Illness Happy Hour, Never Not Funny, Pop My Culture, RISK!, The Smartest Man in the World, HowStuffWorks' Stuff You Should Know, Superego, Thrilling Adventure Hour, The Todd Glass Show, TOFOP, Welcome to Night Vale, Who Charted?, and WTF with Marc Maron. Each year, participating podcasters often do very special, innovative shows at the festival – many trying to outdo each other for the annual occasion. Please see list of confirmed 2016 podcasters below this press release.
Numerous celebrity guests also join the podcasters on stage every year. Past festivals have attracted numerous high-profile names including Maria Bamford, Dave Foley, Zach Galifianakis, Colin Hanks, Joey McIntyre, Patton Oswalt, Sarah Silverman, and many others.
"My favorite aspect of podcasting, as well as the yearly festival itself, is in the creation of community; the connections made between fans as well as the relationships generated between the podcasters, their special guests, and the audience are simply not found in any other medium," says Chris Mancini.
"In general, the podcasters and their guests communicate in a much more informal and personal manner on these shows… plus, on the other end, fans generally listen on ear buds, which is also incredibly intimate with the podcasters talking directly into their ears…. and they are also often given unprecedented access to interact with the shows," continues Elwood. "Podcasts have literally saved people's lives, including a number of depressed and suicidal folks, who said podcasting helped them through dark times … and two podcast fans from San Diego even got engaged at the festival two years ago."
Los Angeles Podcast Festival, the premier live podcasting event in the world, brings together the biggest names in podcasting for a weekend-long blowout in Los Angeles, ground zero for the medium where many of the top shows are based. The annual festival unites podcasters, their special guests, fans, and the podcasting industry to celebrate all things podcasting. Launched on Kickstarter five years ago as a comedy-centric festival, over the years, the growing event has expanded to include a wide-range of additional podcast genres.
The festival, created by podcasters for the podcasting community, is currently produced by founders Dave Anthony (The Dollop), Graham Elwood (Comedy Film Nerds), and Chris Mancini (Comedy Film Nerds). In addition to collaborating on the festival and their podcast, Elwood and Mancini also collaborated on the podcasting documentary, Ear Buds, which explores the unique and personal connection between podcasters and their fans. The film, which features footage from the festival and interviews with some of the biggest names in the medium, is currently on the film festival circuit.
Confirmed Live Recordings at LA Podfest 2016:
Alison Rosen Is Your New Best Friend
Referred to by fans as "The Seinfeld of Podcasts," with former Adam Carolla Show newsgirl and co-host Alison Rosen, it's the podcast about nothing.
Cashing In!
Host Cash Levy interviews T.J. Miller over and over again for thought-provoking nonsense on philosophy, unsolicited advice, and answers to questions you didn't have.
Comedy Film Nerds
Filmmakers and comedians Graham Elwood and Chris Mancini meld real movie talk and real funny with their funny and filmy friends.
Criminal
Co-created by Lauren Spohrer, Phoebe Judge, and Eric Mennel, crime podcast Criminal explores stories of people who've done wrong, been wronged, or got caught somewhere in the middle.
Dude Soup
Dude Soup, brought to you by Funhaus, is chock full of all the gaming, nerd culture, and meatpacking industry commentary that you can handle.
Everything's Coming Up Podcast!
Each week on Everything's Coming Up Podcast, Allie Goertz and Julia Prescott discuss an episode of The Simpsons with their favorite writers and comics.
Fairly Normal with Josh Wolf
New podcast from comedian, actor, and writer Josh Wolf where he interviews people that interest him from any field.
Get Up On This
Jensen Karp and Matthew Robinson sit with a different guest each week to get you up on new stuff, including musicians, television shows, apps, and more.
Girl on Guy with Aisha Tyler
Ultimate guys' girl Aisha Tyler (Archer, Friends, Talk Soup) and her guests rant about stuff guys love: video games, action movies, comic books, sex, small batch spirits, bar fights, and blowing sh*t up.
improv4humans
Founding member of the Upright Citizens Brigade, Matt Besser, hosts this weekly podcast featuring the best improvisers in the universe.
Jonah Raydio
Produced by Cash Hartzell, Jonah Raydio is an "infunnymative" (informative + funny) podcast where guests hang out, play music, talk shop, and have some drinks.
Kill Tony
A weekly live show recorded at the world famous Comedy Store, with hosts Tony Hinchcliffe and Brian Redban, invite guests to join them in critiquing randomly selected comedians.
My Favorite Murder
My Favorite Murder, with Karen Kilgariff and Georgia Hardstark, explores tales of murder and listens to hometown crime stories from friends and fans.
Never Not Funny
One of the funniest men on the planet, Jimmy Pardo, sits down with producer Matt Belknap and guests from the world of comedy to shoot the breeze, share stories, and laugh at life.
Point vs. Point
The news show for intelligent conversation on all the topics you care about, hosted by Evan Mann and Gareth Reynolds.
Road Stories
Road Stories with Murray Valeriano invites top comedians to talk about life on and off the road … and everything that happens in between.
Rooster Teeth
On a more or less weekly basis, the Rooster Teeth crew discusses gaming, films, and projects that they're currently working on.
Sklarbro Country
Sklarbro Country features Jason Sklar and Randy Sklar as they give their weekly comedic takes on the worlds of sports and pop culture.
Steele Wars
Australian comedian Steele Saunders loves Star Wars and each week he finds people of interest who are up to chat about the topic in hilarious and informative ways.
Stuff You Should Know
Josh and Chuck explore Stuff You Should Know, including everything from genes to the Galapagos.
The 40 Year Old Boy
Mike Schmidt's podcast is a brutally funny and profane stream-of-consciousness monologue about his life.
The Comedian's Comedian
Stuart Goldsmith interviews comedians about the craft of writing and performing standup comedy.
The CrabFeast
The CrabFeast, with Ryan Sickler and Jay Larson, focuses on storytelling. Often making light of heavy subjects, you never know where the conversation will lead.
The Cracked Podcast
The Cracked Podcast, an extension of the brilliant articles and sketches on Cracked, features Jack O'Brien and Michael Swaim, along with an impressive roster of guests, who dissect pop culture tropes, debunk myths, and more.
The Dollop
On The Dollop, Dave Anthony reads Gareth Reynolds absurd, ridiculous, and incredible stories from American history, while Gareth knows nothing about the topic ahead of time. Be regaled by stories of baseball pitchers wrestling alligators, millions of balloons attacking the Canadian coastline, and famous headless chickens.
The JV Club
Featuring Janet Varney, The JV Club focuses on women, comedy, and the shared experiences of growing pains.
The Long Shot Podcast
Three comedians, Sean Conroy, Jamie Flam and Amber Kenny, discuss their struggles through the general terrors of everyday life, with special guests, sketches, and original songs.
The Mental Illness Happy Hour
The Mental Illness Happy Hour, hosted by comedian Paul Gilmartin, is a weekly podcast that interviews comedians, artists, friends, and the occasional doctor. Each episode explores mental illness, trauma, addiction, and negative thinking.
The Todd Glass Show
If you like grilled cheese served on fine china, camping out in the living room with all your pals, courageously discussing the issues that matter most in your life, and over-explaining and re-tooling bits midstream, The Todd Glass Show is the podcast for you.
TOFOP
Wil Anderson and Charlie Clausen's weekly comedy podcast, the most popular podcast in Australia, features casual conversations on film, popular culture, and sports, with humorous personal anecdotes and discussions on bizarre hypothetical situations.
Watch What Crappens
Watch What Crappens is a weekly podcast that revels in all thing Bravo. Ben Mandelker and Ronnie Karam praise, ridicule, and eviscerate the Real Housewives, Top Chef and more.
Welcome to Night Vale
Welcome to Night Vale is a twice-monthly podcast for the small desert town of Night Vale, featuring local weather, news, announcements from the Sheriff's Secret Police, mysterious lights in the night sky, dark hooded figures, and more.
Who Charted?
Who Charted?, with Howard Kremer and Kulap Vilaysak, explores what's hitting in music, movies, and comedy.
For more information, check out the website, lapodfest.com