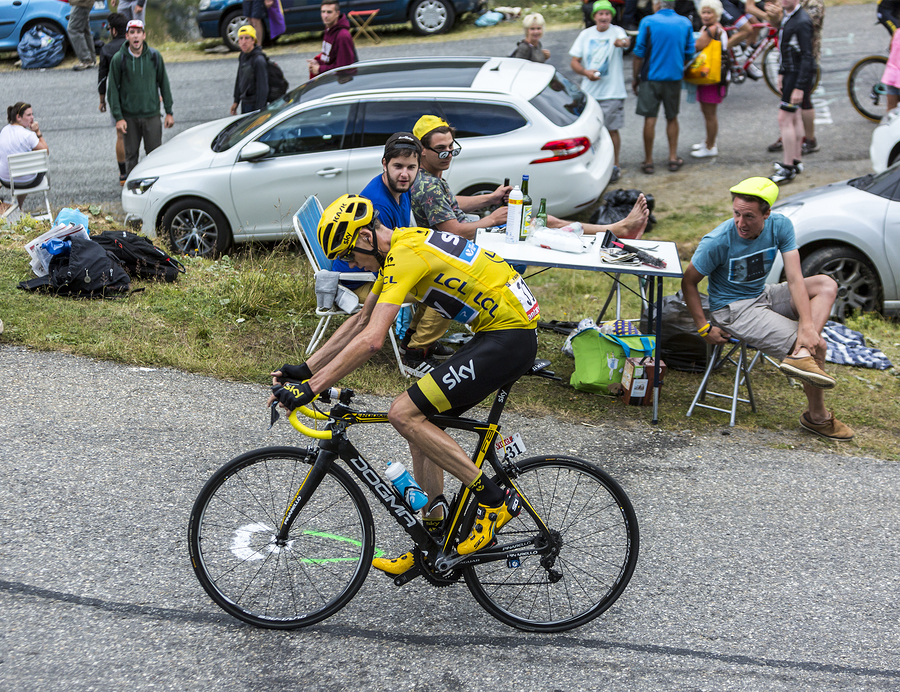 Chaos ensued after the 3 leaders of the Mont Ventoux stage crashed into a motorcycle that stopped suddenly in front of them
The situation was a dangerous comedy of errors. The tour made the decision to move the finish line of Stage 12 six kilometers down Mont Ventoux due to high winds on the summit. Fans were pushed down the mountain, but the barriers holding them back from the road were not. Mobs of people surged onto the road a short distance from the finish, causing the camera motorcycle traveling in front of the three lead riders, Richie Porte, Chris Froome and Bauke Mollema, to stop suddenly. The three breakaway riders crashed into the back.
Froome's bike was broken in the crash. Porte and Mollema leaped up and continued to ride, but Froome was forced to run and carry his broken bike. After running a ways he threw the bike down and continued to jog up the mountain, calling for his team car, which was unable to get to him because of the crowds.
Froome created a dilemma along with the drama, because riders are not allowed to travel without their bike or face disqualification. After a short distance a neutral car made it to Froome and handed him a bike, but it was far too small and had the wrong pedals for his shoes. After a short distance he threw it down by the side of the road and started to run again.
Finally the Sky team car made it to Froome and handed him a real bike, but the damage was done and the yellow jersey was far behind the stage leaders. Originally Froome's yellow jersey was lost and Adam Yates was announced as the new overall leader. The race jury stepped in though, and awarded Froome, Porte and Mollema the same time for the stage.
Yates had no problem with the decision, saying, "I don't want to take the yellow jersey like that. I'd rather take it with my legs and not after a crash in a bad situation."
Froome has actually extended his overall lead in the Tour de France, with Nairo Quintana now more than a minute behind.