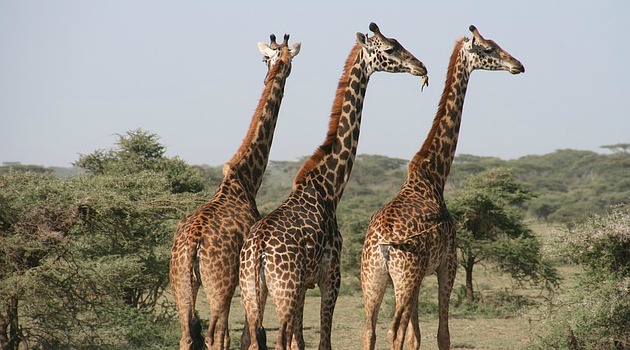 The team of researchers hope to raise awareness of the giraffe after recent decline in numbers.
Scientists from Penn State University and Tanzania's Nelson Mandela African Institute for Science and Technology have sequenced the giraffe's genome for the first time and are ever closer to finding out the mysteries of its impressively long neck.
Along with the giraffe's closet living relative, the okapi, researchers compared both animal's gene-coding sequences to over 40 other mammals including sheep, camels and humans. Douglas Cevenar and Morris Agaba set to solve the puzzle of the giraffe's stature and powerful sprinting abilities first researched by Charles Darwin two centuries ago.
"The evolutionary changes required to build the giraffe's imposing structure and to equip it with the necessary modifications for its high-speed sprinting and powerful cardiovascular functions have remained a source of scientific mystery since the 1800s, when Charles Darwin first puzzled over the giraffe's evolutionary origins," Cavener said in a press release.
They found that the genes of the giraffe and okapi are very similar as they both evolved from a common ancestor only 11 to 12 million years ago but as the okapi does not have the long neck of the giraffe, the researchers will be able to pinpoint the giraffe's unique genetic changes.
"To achieve their extraordinary length, giraffe cervical vertebrae and leg bones have evolved to be greatly extended," Cavener said. "At least two genes are required – one gene to specify the region of the skeleton to grow more and another gene to stimulate increased growth."
The study which was published in the journal Nature Communications this week, hopes to raise awareness of the majestic animal that has seen a recent decline in numbers.
"We hope that the publication of the giraffe genome and clues to its unique biology will draw attention to this species in light of the recent precipitous decline in giraffe populations," he said. "While the plight of the elephant — giraffe's shorter companion in the African savannah – has received the lions share of attention, giraffe populations have declined by 40 percent over the past 15 years due to poaching and habitat loss. At this rate of decline, the number of giraffes in the wild will fall below 10,000 by the end of this century. Some giraffe subspecies already are teetering on the edge of extinction."