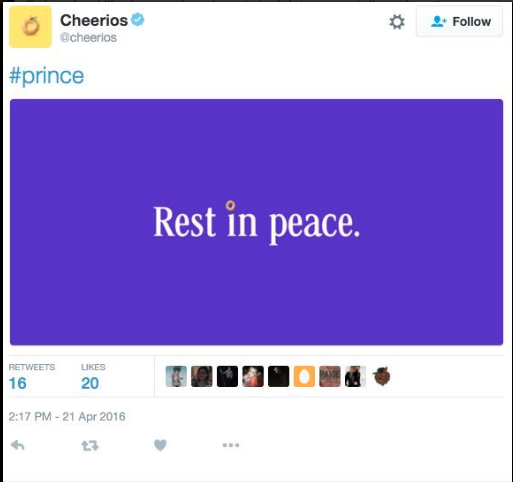 The Twitterverse exploded after the General Mills company posted a tweet with hashtag #prince that included a Cheerio.
Cheerios has deleted a tweet that said #prince, "Rest in peace" after public backlash called it offensive and opportunistic. The problem? The dot above the "i" was a Cheerio.
The General Mills-owned company released a statement after deleting the tweet, saying they were simply seeking to acknowledge the death of a legend who came from their own Minnesota hometown. "But we quickly decided that we didn't want the tweet to be misinterpreted, and removed it out of respect for Prince and those mourning," said Cheerios.
Twitterfeeds blew up in response to Cheerios' posting. "Hey guys, Prince died. BUT PLEASE DON'T FORGET ABOUT CHEERIOS!" and, "Can't believe that Cheerios Prince ad. Incredibly poor taste to use his death for self promotion," and, "Mysteriously, somehow, my love of Prince and my sadness at his passing have transferred into a love and desire for cheerios."
Although other companies took to Twitter to post tributes to Prince, Cheerios received by far the most attention. For example Spotify tweeted "We join the world in mourning the loss of a genius, a legend, and an inspiration to generations of artists and fans." NASA posted a picture of a purple nebula, tweeting, "A purple nebula, in honor of Prince, who passed away today." Chevrolet's tweet said, "Baby, that was much too fast. 1958-2016." Apparently the problem with Cheerios' tweet was, well, the Cheerio.
The 57-year-old Prince died last Thursday at his Chanhassen, Minn. home.