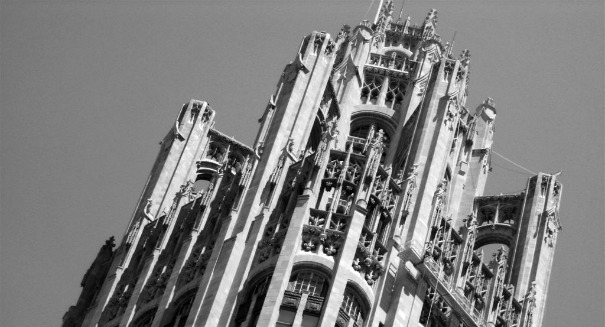 It's been home to the Chicago Tribune for 90 years, and now it's about to be turned into something completely different.
It's an unmistakable feature on Chicago's famous skyline: the Tribune Tower, home to the Chicago Tribune since 1925 — and now, Tribune Media is putting it up for sale, and it won't come cheap.
The estimated sale price of the tower once a buyer is finalized will probably be in the $100 million range, to say nothing of the huge costs of redeveloping the property from the home of a newspaper to an entirely different kind of building — either a high-end hotel or a residential tower or perhaps even an office building with lots of retail shops, according to a Chicago Tribune report.
It's certainly got a plum location, situated on North Michigan Avenue in the heart of downtown near the fashionable shopping district of the Windy City. Despite that high price tag, some high-end developers were immediately interested, it's just a question of who will snap it up and what the building will ultimately be turned into.
The newspaper industry has fallen on hard times in recent years, and this sale is undoubtedly part of a larger strategy by Tribune Media, which recently restructured to spin off its newspaper division — including papers like the Tribune, the Los Angeles Times, and the Baltimore Sun — from its broadcasting and real estate division. Now, the Chicago Tribune will have to find a new home, a bittersweet moment for the company for sure. Not far away, a gleaming Trump hotel sits on the location of the old Chicago Sun-Times headquarters. Will the Tribune Tower get the same treatment? That remains to be seen.
Oxford Capital is one developer that is very interested in purchasing the building. It likes the building because it would be a complex and multi-faceted project. The developer has already worked on another North Michigan Avenue property, turning it into a high end hotel, and the possibilities are endless for the Tribune Tower.
Murphy Capital Management is another possible suitor for the Tribune Tower. It would be interested in both the site and the adjacent land, which includes a parking lot.
It's a big tower with lots of space — zoned for up to 2.4 million square feet, although it only uses 737,000 square feet. That gives it a lot of room for all sorts of projects, be it a new residential renovation, refurbishment into a high end hotel, or perhaps lots of brand new offices in the heart of downtown.