While cricket makes it return to one of the tranquil stadiums in India, the state of affairs off the field don't seem to be that soothing within Caribbean cricket.
As they line up against India at Dharamsala for the fourth ODI, it is expected that the Windies would look for a convincing win so that all the talk of trouble off field is put to rest.
MS Dhoni and Dwayne Bravo will shake hands at 2:30 PM today at Dharamshala.
Catch all the action live on Star Sports as the toss will take place at 2:00 pm India time. Star Sports will also be live streaming the match at its website.
Watch the match live online here or HERE.
West Indies had set a perfect platform to bring about an uplift to the team morale in the opening ODI. But things took a different shape as they lost to keep up the momentum and succumbed to the crisis in middle order in the next.
Worries still prevail as they seem to be hit with further blows. Lendl Simmons has been ruled out of the remaining tour, which has brought a broader dent in the Windies squad.
Left arm spinner Nikita Miller has been named as the replacement, but he would find it hard to make it to the final XI.
On the other hand, you have the men in blue coming out of the aftermath of the Kochi ODI. The area of concern for MS Dhoni would have been handling the bowling department.
Delhi ODI witnessed some sort of solidification in the same, but it would also be fair to say that the Windies hadn't played to full potential at the Kotla.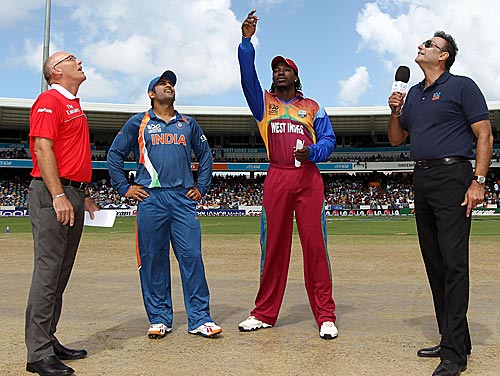 The home series has now shifted the Indian concern from bowling to batting. Failing to prove to be of any threat in the first ODI with the willow, the Indian batting line-up was to an extent kept hushed.
Virat Kohli would be the man in focus, as he would want to shrug off his bad form.
A win would ensure a thrilling series and both teams would not want the trophy to slip away from their hands.
Ind vs WI live score: