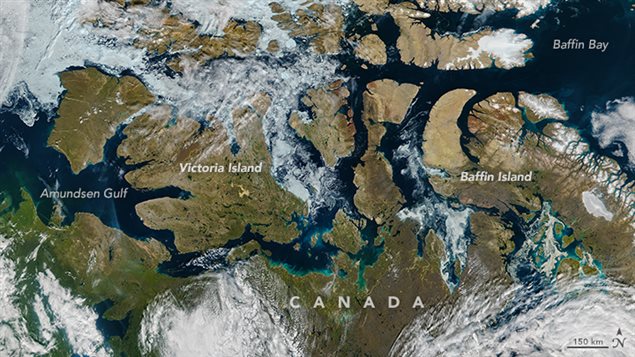 The famous Arctic sea route that connects the Pacific and North Atlantic Oceans is normally full of sea ice nearly year round
The picture above tells the whole story. On Aug. 9 NASA's Suomi NPP satellite captured an image of Canada's Northwest Passage in a state that NASA says is the "new normal" – the ice that is typically present in the famed waterway nearly year round has vanished. As climate change continues to transform the region, the ice-choked path between Amundsen Gulf to Baffin Bay is now open water.
NASA sea ice scientist Walt Meier says that even if this year does not break the ice extent loss record that was set in 2012, the situation is becoming typical. "A decade ago, this year's sea ice extent would have set a new record low and by a fair amount," said Meier. "Now, we're kind of used to these low levels of sea ice – it's the new normal."
Meier says that the sea ice of the region reached a record low maximum extent in March, and continued with fairly rapid ice loss through May. According to Meier, melting slowed in June, which makes it unlikely that the ice loss this year will set a new record, but it is showing no signs of any kind of recovery. "It's still in a continued decline over the long term," he said. "It's just not going to be as extreme as other years because the weather conditions in the Arctic were not as extreme as in other years."
The sea ice cover of the Kara and Barents seas north of Russia opened in April this year, exposing the surface of the ocean to the warmth of the sun weeks ahead of schedule. By May 31 the extent of sea ice cover loss in the area was a month ahead of normal.
A weather change in June slowed the loss of the sea ice, but Meier says a really strong low pressure system moving across the Arctic could start the accelerated ice melt again.
Photo Credit: NASA Earth Observatory