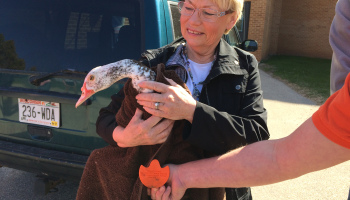 Injured duck learns to walk on 3D-printed feet. PHOTO: WBAY
In a story that would warm the hearts of everyone, Phillip the duck, who lost both of his feet to frostbite, has been rescued by a compassionate caregiver and a 3D printer. according to WBAY.
Phillip, from Oshkosh, WI,  was adopted by Vicki Rabe-Harrison after she learned of Phillip's condition.  According to her, "There was a girl that had to move out of her home that had goats and chickens and ducks and all sort of critters, and there was a picture of Phillip with his feet all curled up and dried because they had frozen."
Despite the best efforts of Ms. Rabe-Harrison to rescue the duck, it appeared he would not be able to survive his injuries without his feet and he had been scheduled to be put down.  But she reached out to a local high school teacher, Jason Jischke of South Park Middle School.
Jischke said he called Vicki and told her to hold off on putting the duck down, he was "making feet right now."  After a few attempts, Phillip received a new pair of 3D-printed feet, and is learning how to walk on them.
Ms. Rabe-Harrison said the duck "picked it up real fast and I'm sure he'll learn to balance again and be able to waddle around with all the other ducks."  Phillip is adjusting to his new feet and is on his way to an animal sanctuary, owned by Brandon and Alyssa Herbst.
Phillip is not the only resident at the Herbst's sanctuary.  According to Alyssa, ""We have about 15 to 20 active volunteers right now, then we probably have about 30 or so who are able to come sometimes," who come to help with the injured animals.
The Herbst's say Phillips new 3D-printed feet are just temporary, and they hope a college engineering department will be able to come up with a more permanent solution for his plight.
Video of Phillip walking with his new feet can be found here.