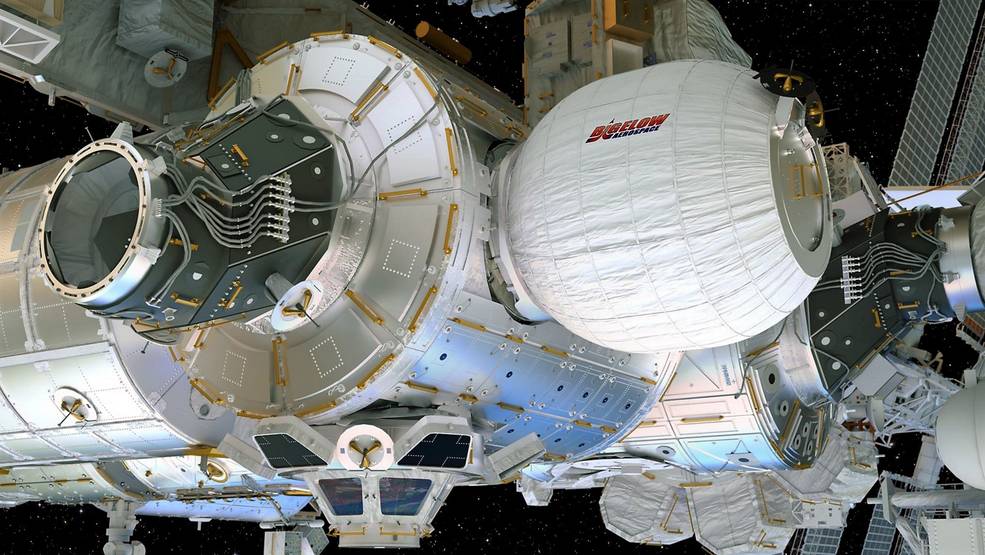 BEAM is the first human-rated, expandable space structure, and will be tested on the International Space Station over the next 2 years.
NASA will be installing BEAM, the Bigelow Expandable Activity Module, on the International Space Station this weak with a goal of testing the possibility of using expandable habitat technology in space. BEAM is the first human-rated expandable structure. The information gained in its 2-year test will be used to develop sturdier expandable space habitats that could ultimately result in space hotels that could serve both scientists and space tourist, or homes to astronauts living on Mars.
The BEAM experiment will demonstrate capabilities such as packing and folding techniques, thermal, structural and mechanical durability, and radiation protection capability. Expandable habitats are designed to provide larger living and working spaces while taking up less room on a rocket.
Robert Bigelow, CEO of BEAM manufacturer Bigelow Aerospace, said "Our hope is that NASA would be the primary customer for that structure and we've be given permission [to commercialize it.] Essentially we'd be time sharing." Bigelow Aerospace also made the announcement that by 2020 it wants to launch expandable habitats with rockets from the United Launch Alliance.
BEAM, which is a giant inflatable room, will be attached to the ISS this weekend. Astronauts will first enter the module sometime next month and will spend several hours at a time in the structure over the next two years, studying conditions inside the fabric room. The airlock will be kept closed between BEAM and the ISS, and astronauts will only enter to collect data a few times each year.
If the module should get punctured it will slowly compress so that the ISS is not harmed. Sensors inside BEAM will monitor temperature changes and radiation, as well as observe how it holds up against orbital debris.
The inflatable module, which is made of layers of fabric, will expand to almost five times its compressed size by the end of May, and equalize with the pressure in the ISS. Currently it is only 7 feet in diameter and 8 feet in length. It will soon stretch to 10 feet by 13 feet, according to a NASA blog post.
Once the experiment is finished the module will be released from the space station, burning up as it descends through Earth's atmosphere.
The BEAM installation can be watched live on Saturday, April 16, beginning at 5:30 a.m. EDT, at http://www.nasa.gov/nasatv.
Artists rendering of BEAM attached to ISS from Bigelow Aerospace