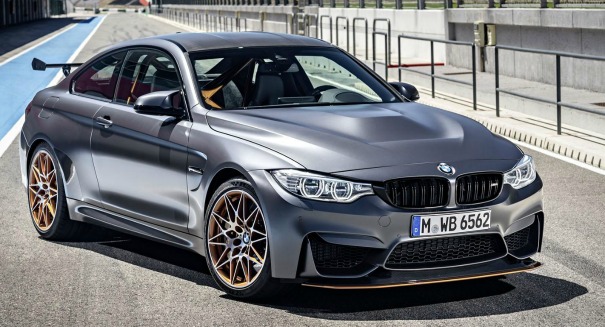 New BMW is turning heads at auto show.
Everyone knows about BMW's expertise in building state of the art automobiles, but the new M4 GTS being previewed at Amelia Island Concours d'Elagance this weekend has auto enthusiasts oohing an ah-hing over the latest edition of the carmaker's line, according to SlashGear.
The company is billing the new model as "the most agile, radical and powerful M4 ever," and the car seems to be living up to the hype surrounding it.  It's not just the regular M4 with a new power plant, but the model has been completely reworked, with an emphasis on reducing weight, boosting power and improving efficiency.  BMW says the new model is about 200 pounds lighter than the regular M4, making use of carbon-fiber-reinforced plastic, and aluminum in the new design
Quite possibly the most striking feature of the new M4 is the forged aluminum Acid Orange wheels with contrast polishing, equipped with 19-inch Sport Cup tires on the front and 20-inch tires on the back.
The 3.0 liter M TwinPower inline 6-cylinder engine is rated at 493 horsepower, with 443 ft.-lbs. of torque, with a quoted top speed of 189.5 mph, and 0-60 in 3.5 seconds.  The engine also features a water injection system, hidden in the trunk, that injects a fine mist of water into the intake manifold, reducing the final compression temperature.  That, allowing the engine to run a higher boost pressure and earlier spark timing, gives a nudge to both power and torque, and engine efficiency.
BMW reports the water in the tank would need to be topped after every five gas tanks of use, but if you fail to do so, the engine will automatically revert to normal operation, albeit with a little less power.
The company is offering the new model in four colors, Alpine White, Black Sapphire, Mineral Grey and Frozen Grey, but don't get your hopes up for making a purchase on one of the new models.  BMW only plans to make 700 of these autos, and at a price tag that starts at $134,200 in the United States, every one of the 700 has already been sold.