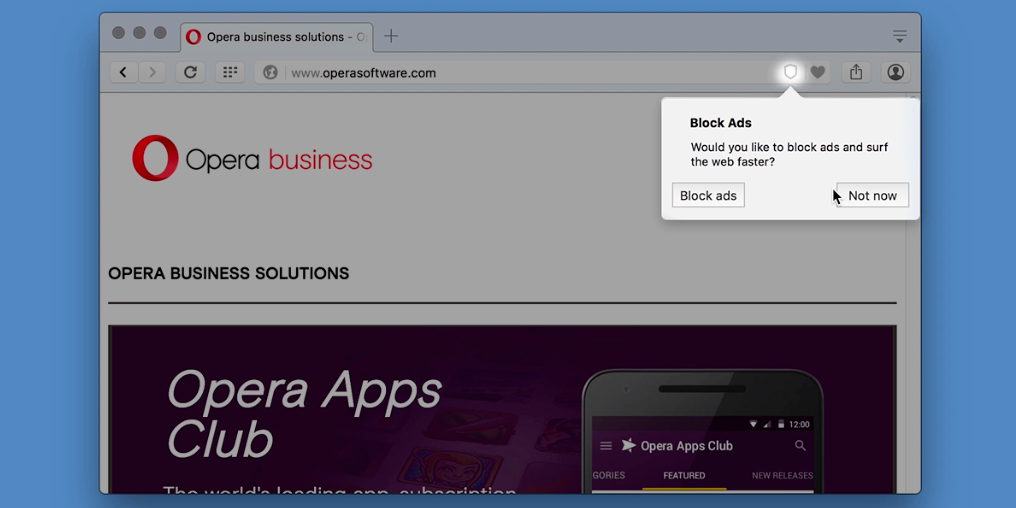 Tests are showing that the feature can cut the time needed for page loads by 90 percent
Opera is testing a new version of their web browser that contains a built-in ad blocker. The upgrade could change browsing forever, as some tests are showing that the feature can cut the time needed for page loads by 90 percent, a figure which PCWorld tested and agreed with. Competing browsers such as Firefox or Chrome use plugins to block ads. Opera's version 37.0.2162.0 for Windows and MacOS has the ad blocker built right into the software, the first desktop Web browser to do so.
Krystian Kolondra, Opera's senior vice president in charge of engineering, says the way advertising works now is affecting users' online experience in a highly negative way. The new Opera browser will offer the choice of seeing the ads or not: when you go to load a page, Opera will send a popup asking if you want to block the ads in order to surf the Web faster. The feature can also be turned on in Settings.
Users who wonder if the ad blocking is really working can click on a tool that will reveal how many ads were actually blocked. It can also do a speed test that shows how fast pages load when ads are enabled versus how fast they load with no ads. Tests showed that the software eliminated pre-roll video ads, display ads and banner ads. It also blocks third-party scripts and tracking pixels if their purpose is advertising.
There's a problem though. Sites depend on ad money to pay the bills, and blocking the ads also blocks revenue. Kolondra says he understands that, and that without the ads many services could not exist, but he doesn't think the ads should have such a negative impact on how long it takes to do things online.
The International Advertising Bureau's research lab released a guide this week with advice about ad blockers, as well as a script that their clients can use to detect the use of the software, which might lead to anti-ad blockers and then anti-anti-ad blockers, in an endless pattern. Kolondra said what advertisers really need to do is work on less intrusive ads.
As yet there has been no time frame announced for when the new version of Opera's web browser will be available.