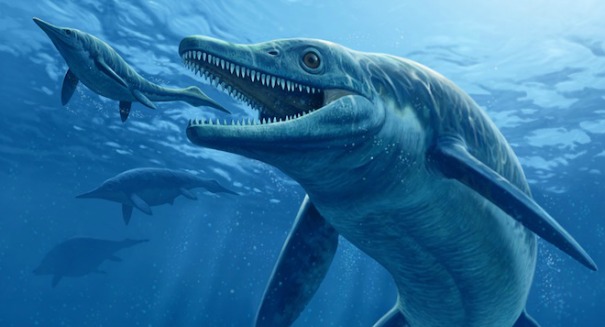 The strange truth about what really caused this massive underwater creature to die out 90 million years ago.
Scientists have been speculating on the extinction of dinosaurs and their contemporaries for centuries. While researchers cling to solid theories—an asteroid striking the planet 65 million years ago—mysteries are floating around regarding a few species that have eluded dogma, such as the ichthyosaur, according to a University of Oxford statement.
The ichthyosaur existed 150 million years ago, a dolphin-like reptile spanning the early Triassic period stretching to the late Cretaceous. But it disappeared roughly 90 million years ago, long before the asteroid-driven theory took place. Scientists have a multitude of explanations at hand, but scant evidence to support them.
But a consortium of scientists believes they've discovered new insight onto the ichthyosaur's extinction. Published in the journal Nature Communications, their observations reveal that climatic change transitioning through the late Cretaceous period is the probable cause.
Scientists raked through museum collections and various literature of the ichthyosaur and compiled comprehensive and updated information on the animal's contemporaries. They then conducted a nuanced examination that investigated the links between all the various species that evolved over the same period.
Generally, they found that the ancient creature went through two mass extinctions, one that wiped-out great numbers during the Cretaceous period and a second event several million years later that finished it off. Observations trace to climate variations during the first extinction through fossil records. A great environmental change around that time created fluctuations in temperature causing corollary chemical changes such as the amount of oxygen and carbon dioxide in the water.