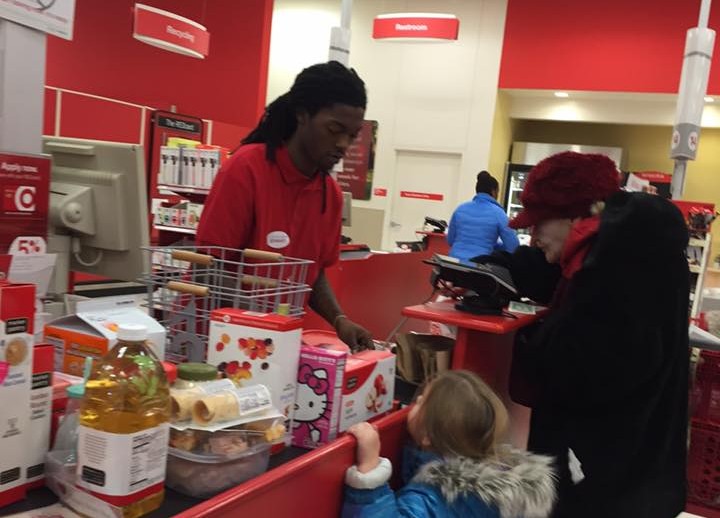 A feel-good story that people have been eager to share.
It's a feel-good story gone viral, an example of kindness and patience for an elderly customer by, of all people, a Target employee. Sarah Owen Bigler's Facebook post describing the occurrence has now been shared over 25,000.
Ishmael Gilbert woke up to phone calls last Thursday morning telling him to "check Facebook, check Facebook." When he did he found that a picture of him at work had been shared more than 13,000 times.
Bigler was rushing through Target with one sick child and another she had just picked up from the sitter, hoping to get in and out quickly. She says in her post that she picked a line that had only one person in it, then unloaded her groceries and waited for the elderly woman in front of her to check out. And waited. And waited. Some customers got impatient and moved to other lines.
She started to get frustrated as the woman was carefully counting out her change to pay individually for her items with coins, but then noticed how patient the cashier, 19-year-old Gilbert, was being with the woman. She also noticed that her young daughter was standing right by the woman, watching the whole thing. Bigler took a picture and started observing more closely.
The elderly customer was clearly getting agitated as the line grew behind her, but the cashier continued to focus on the lady in front of him, helping her count her change, carefully taking it from her shaking hands and repeatedly saying "Yes, ma'am" to her. Gilbert even took the time to go to a different register and get the woman a reusable bag after she asked if she had enough money to buy one.
Once Bigler reached the register, Gilbert thanked her for her patience, and she thanked him for his, and for the example he set for her children. Once she checked out she took the time to go to the store manager and relate the incident.
Gilbert says he is astonished at the attention he has received since the incident, as he was just doing his job. He says "it just feels good to be recognized for good work," but that he treats "all customers the same, the way I want to be treated." He did not even know anyone had taken his picture.
Gilbert had only been working at Target for a few days. Since the story became known, he says he is being recognized and people have even offered him jobs. But for now he plans to stay where he is. However, his team leader Todd Davis says that Gilbert's actions will definitely help his career at the store.