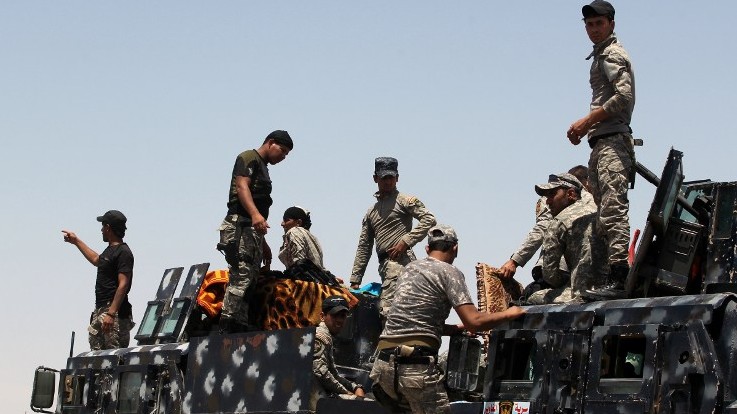 ISIS may not be able to withstand the challenges it faces in Syria and Iraq.
The Iranians, perhaps out of concern for the Iraqi and militia forces fighting IS, sent Qassem Sulaimani, head of the Islamic Revolutionary Guards Corps, to oversee fighting at Fallujah. His forces, alongside militia fighters and Iraqi soldiers, comprise some 20,000 men facing only around 1,000 IS fighters barricaded inside the city.

In this June 5, 2013 file photo released by the Syrian official news agency SANA, a damaged street is seen in Qusair, Syria. Syria's civil war has morphed into a proxy fight in which Shiite Iran has strongly backed Assad, while Sunni Arab nations have backed rebels. (AP/SANA)
In light of the Iraqi offensive that began again this week, IS may try to demonstrate its ongoing capacity to wreak havoc by targeting locations across Europe and the West. Whatever horrors it can unleash, however, the fall of Fallujah would constitute a crushing blow to IS sovereignty in the east.
Trouble from the north
Fighting on the northern front will take longer to be resolved. Although Syrian opposition forces have already begun carpet bombing villages in the Raqqa district, the fighting there is still some 60 kilometers (37 miles) away from the heart of the IS stronghold in the city of Raqqa itself.
Operations carried out against IS in the Raqqa district are being overseen and aided by American forces. The American contribution to the offensive against IS was underlined by a recent visit to the front by the commander of the United States Central Command, Josef Votel, where he met with representatives of Syrian and Kurdish forces fighting IS, such as the Syrian Democratic Forces and the YPG, which is the armed wing of the Democratic Union Party in Rojava, the Kurdish region of Syria.
The joint Kurdish-Syrian offensive on Raqqa may take some time, but even the mere announcement of its commencement is reason for IS to worry.
Is this the end?
It may be that the fighting around Fallujah and Raqqa is only just beginning, but we can cautiously say at this point that the survival of IS is no longer a given. If the IS strongholds in Raqqa and Fallujah fall, all the organization will have left is control over the small area of Mosul, which is bound to be captured by the Iraqi army or by pro-Iranian militia forces.
Overpowered on its home turf, IS would shift from the bureaucratic enterprise of running a sharia state to become one of the pedestrian variety of terror groups — the kind that "only" conduct terror and guerrilla attacks.